NAI CIR Announces New Agents, Debernardis & Plakas
Lemoyne, PA – NAI CIR is proud to announce the addition of two (2) new agents, Cooper Debernardis and Tony Plakas, to our growing team. NAI CIR's team is comprised of the area's leading commercial real estate experts focused on client success and community engagement. "As we continue to expand our professional depth and geographic coverage, we are proud Cooper and Tony have chosen NAI CIR to build their commercial real estate careers," says Vice President Casey Khuri, of NAI CIR.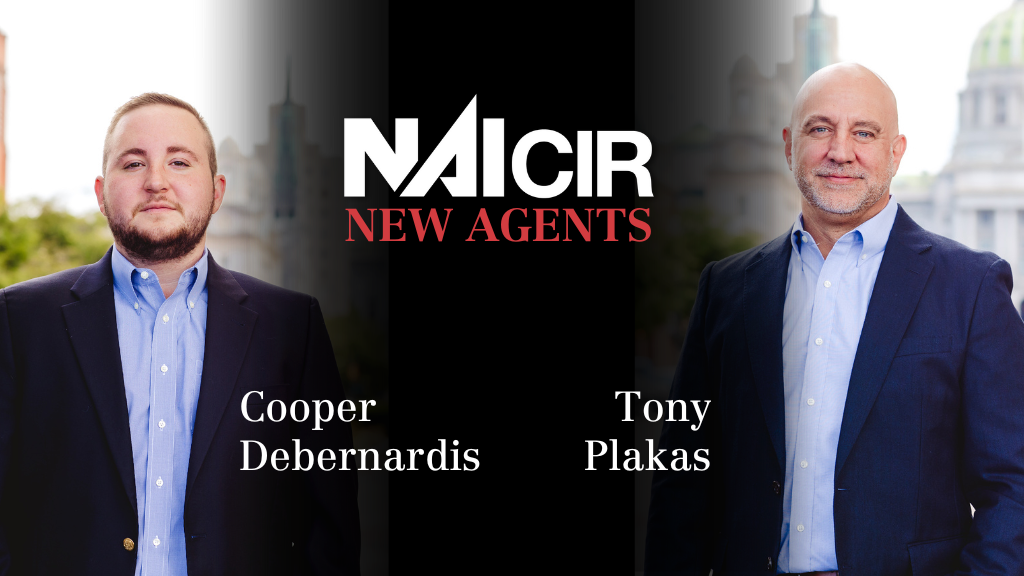 Cooper Debernardis joins NAI CIR following a residential real estate career with a renowned, Camp Hill-based residential team. He places great importance on  delivering exceptional service and exceeding the client's expectations. Cooper has been proudly affiliated with Greater Harrisburg Association of Realtors (GHAR), further solidifying his expertise and commitment to the Central Pennsylvania region. A Mechanicsburg native, Cooper developed his sales skills early and takes pride in his dedication to his clients.
Tony Plakas joins NAI CIR with significant experience from owning and managing his own multi-family portfolio. In addition, Tony has built tremendous relationships as owner of his family's Hanover-based restaurant for over 30 years. Born and raised in Hanover, PA, Tony has an extensive network in the South-Central Pennsylvania and Northern Maryland regions. He looks forward to assisting individuals and businesses achieve their commercial real estate goals through a diligent, streamlined approach.
About NAI CIR
NAI CIR, with offices in Lemoyne and Carlisle, is Central Pennsylvania's oldest and largest exclusively commercial industrial real estate full-service brokerage firm. Founded in 1970, the firm is consistently ranked as the top producing commercial industrial sales and leasing firm by the Central Pennsylvania Business Journal and by Real Capital Analytics. The firm has been honored as a Philadelphia Region CoStar Power Broker for 23 consecutive years.
NAI CIR is the Central Pennsylvania representative of NAI Global, an international organization of real estate professionals with connections literally all across the world. Our transaction and management professionals are among the most experienced and successful in the business, and our platform ensures that our expertise directly benefits our clients.