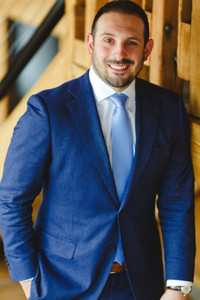 Ryan Murray
o +1 717 761 5070 ext. 186
m +1 717 571 4978
f + 1 717 975 9835
Scope of Service Experience
Ryan joined NAI CIR, the largest exclusively commercial-industrial real estate firm in Central Pennsylvania as a licensed agent. His educational background and previous experience in the finance industry has enabled him to deliver exceptional financial analysis and market research within Central Pennsylvania's office market. Ryan's dedication and commitment as well as his extensive market knowledge ensure world class service to both his external and internal clients.
Backgroun

d &

Experience
Ryan graduated from Mount St. Mary's University with a degree in Business with a minor in finance and marketing. Ryan was a member of the baseball team which competed in the Division I college baseball world series national tournament. Ryan also completed the distinguished Massimo Group Real Estate program to further enhance his market knowledge.
Professional Associations & Designation
-NAI Global Office Council Greater Harrisburg Association of REALTORS Pennsylvania
– Association of REALTORS National Association of REALTORS Greater Harrisburg
– Association of REALTORS Commercial Board Member Mount St. Mary's University
– Central Pennsylvania Alumni Association West Shore Young Professionals Board Member
Transaction History
– Sold – 56,556 SF Office Investment, Mechanicsburg, PA – $10,115,000
– Sold – 58,014 SF Office Investment, Harrisburg, PA – $6,385,000 Sold
– 214,000 SF Office Investment, Camp Hill, PA $2,500,000 Sold
– 34,000 SF Office, Harrisburg, PA – $2,017,000 Sold
– 230,647 SF Office Investment, Camp Hill, PA – $2,100,000 Sold
– 32,309 SF Flex Building Investment, Harrisburg, PA – $2,100,000 Sold
– 55,713 SF Office Investment, Mechanicsburg, PA – $1,925,000 Sold
– 30,056 SF Office Investment, Harrisburg, PA $1,250,000 Sold
– 12,000 SF Industrial Warehouse, Mechanicsburg, PA – $950,000 Sold
– 90,000 SF Industrial Warehouse, Chambersburg, PA – $850,000
We Take Your Business Personally
NAI Global Member firms are owned and operated by local market leaders which means they have far more at stake than the average commercial real estate brokerage: as owner-operated firms their entire existence hinges on your total satisfaction and the strength of their relationship with you. As a result, our Members take your business personally.
At NAI CIR, you can be confident that your needs will be our top priority – not just our next assignment – because our Members' success is entirely dependent on your success. Our seamless network with NAI Global offers over 180 brokerage and property management firms with 6,700 professional local market leaders around the world are completely committed to your needs. They are all actively managed to work cohesively in your local market or around the world, sharing their very best ideas with a singular purpose: exceeding your expectations to earn your business again and again.
This highly personal and unwavering commitment to service excellence can't be duplicated anywhere else and is the powerful common thread that runs through all of our firms – setting the entire NAI Global network far apart from the competition.
WHAT WE CAN DO FOR YOU

Call on NAI CIR when you need sales, leasing, property management, asset management, investment, advisory or consulting services. Use our services with confidence.