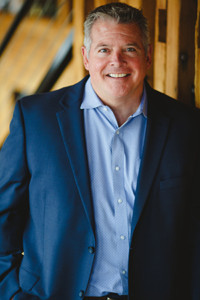 Pete Higgins
o +1 717 761 5070 ext. 142
m +1 717 319 7666
f + 1 717 975 9835
Scope of Service Experience
Provides strong, experienced and proactive representation to both real estate investors and occupiers. He is well regarded for his insightful, thorough and ethical approach to problem solving. As an experienced and highly successful CEO of numerous operating businesses, Pete's demonstrated experience in strategy and budgeting combined with strong communication skills leverages into his clients' success.
Backgroun

d &

Experience
Pete has an extensive and highly successful track record in the planning, investing and execution of health, wellness and fitness businesses in New York City, the Greater Philadelphia Region and Central Pennsylvania. He has been founder and CEO of numerous business including fitness centers, fitness equipment sales, physical therapy and aquatic centers and business consultancies. He has a strong track record in value creation and subsequent profitable dispositions. Pete has extensive successful experience in real estate investing, sale and lease negotiation and joint venture structures.
Education
Millersville University, B.S. in Education and Physical Education
Professional Associations & Designation
– Greater Harrisburg Association of Realtors
– Pennsylvania Association of Realtors
– National Association of Realtors
– NAI Global Retail Council
Transaction History
Transaction History
– Development and disposition of 20,000 SF health/fitness/aquatic facility on 4 acres; Suburban Philadelphia, PA
– Leasing representation for Pineapple Fitness; Manhattan, NY
– Leasing and disposition negotiation for Strawberry Square Fitness; Harrisburg, PA
– Purchase and disposition representation for multi-family properties; New Jersey
We Take Your Business Personally
NAI Global Member firms are owned and operated by local market leaders which means they have far more at stake than the average commercial real estate brokerage: as owner-operated firms their entire existence hinges on your total satisfaction and the strength of their relationship with you. As a result, our Members take your business personally.
At NAI CIR, you can be confident that your needs will be our top priority – not just our next assignment – because our Members' success is entirely dependent on your success. Our seamless network with NAI Global offers over 180 brokerage and property management firms with 6,700 professional local market leaders around the world are completely committed to your needs. They are all actively managed to work cohesively in your local market or around the world, sharing their very best ideas with a singular purpose: exceeding your expectations to earn your business again and again.
This highly personal and unwavering commitment to service excellence can't be duplicated anywhere else and is the powerful common thread that runs through all of our firms – setting the entire NAI Global network far apart from the competition.
WHAT WE CAN DO FOR YOU

Call on NAI CIR when you need sales, leasing, property management, asset management, investment, advisory or consulting services. Use our services with confidence.