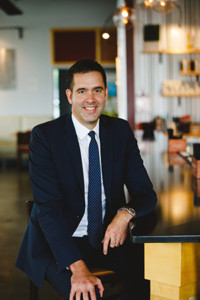 Nik Sgagias
o +1 717 761 5070 ext. 154
m +1 717 439 9453
f + 1 717 975 9835
Scope of Service Experience
Nik joined NAI CIR in 2009. Following a 15 year career as a business owner and real estate investor. A lifelong resident of Central Pennsylvania, he was raised in a business atmosphere with a family that owned numerous East Shore restaurants. This business background gives him the knowledge and attention to detail demanded by his clients when it comes to the needs and requirements of purchasing, listing, leasing, or selling commercial properties.
Backgroun

d &

Experience
Nik specializes in retail and investment brokerage, both acquisition and disposition requirements.
Pad sites
Assessments of business property needs and requirements
On-site equipment assessments
State and local licensing regulations/requirements
Nik understands the importance of a customer service, his goal is peace of mind for each client for every real estate transaction.
Nik has extensive business acumen of having owned many businesses in Central Pennsylvania. A graduate of Central Dauphin East High School, he understands commercial property due diligence in order for his clients to make educated and informed business decisions.
Professional Associations & Designation
– ICSC International Council of Shopping Centers
– Neohoriton Society, USA, Board Member
– Greater Harrisburg Association of Realtors
– Pennsylvania Association of Realtors
– National Association of Realtors
– Pennsylvania Restaurant Association
– Pennsylvania Tavern Association
– Licensed real estate agent in State of Maryland
We Take Your Business Personally
NAI Global Member firms are owned and operated by local market leaders which means they have far more at stake than the average commercial real estate brokerage: as owner-operated firms their entire existence hinges on your total satisfaction and the strength of their relationship with you. As a result, our Members take your business personally.
At NAI CIR, you can be confident that your needs will be our top priority – not just our next assignment – because our Members' success is entirely dependent on your success. Our seamless network with NAI Global offers over 180 brokerage and property management firms with 6,700 professional local market leaders around the world are completely committed to your needs. They are all actively managed to work cohesively in your local market or around the world, sharing their very best ideas with a singular purpose: exceeding your expectations to earn your business again and again.
This highly personal and unwavering commitment to service excellence can't be duplicated anywhere else and is the powerful common thread that runs through all of our firms – setting the entire NAI Global network far apart from the competition.
WHAT WE CAN DO FOR YOU

Call on NAI CIR when you need sales, leasing, property management, asset management, investment, advisory or consulting services. Use our services with confidence.